UI UX Design Services
We are specialized in creating beautiful and smooth UI/UX designs that provide better user experience by incorporating effective collaboration, streamlined projects which strive for better results.
OUR CLIENTS
Trusted By The Best
Our Design Approach
How Do We Design
Our Services
Foundation Of Successful Development
HONOUR
Awards & Recognition
Design Services
The Design Services We Provide
Mobile App Design
Cross-Platform Design
Web Design
UI/UX Consulting
OUR PORTFOLIO
Explore Some of Our Best Projects
Navlon App
New to the city? Does not know where to find the best food and restaurant? Let's place a request with navlon to get the best restaurants and dishes in your area.
- Navlon allows users to communicate by sending and receiving text messages through chat.
- Help the users to get tips from by making recommendations.
- The users shall be able to find the best restaurants and dishes in their area.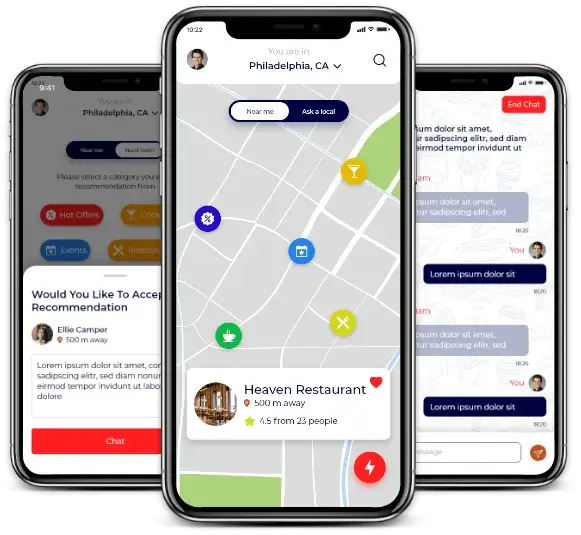 Saloon App
A community platform connecting people looking to hire or sell saloon related services. Change how, when and where you work.
- Be your own boss – Offer services at your own time and area.
- A common ground for saloon vendors and customers.
- Get everything easily and effectively.
Wheel Bees
Wheel Bees

The license plate chat app. The mission is to make communication in and around the vehicle possible for everyone.
- WheelBees allows users to communicate by sending and receiving text messages through license plates.
- No more meaningless waving, headlight flashing or honking!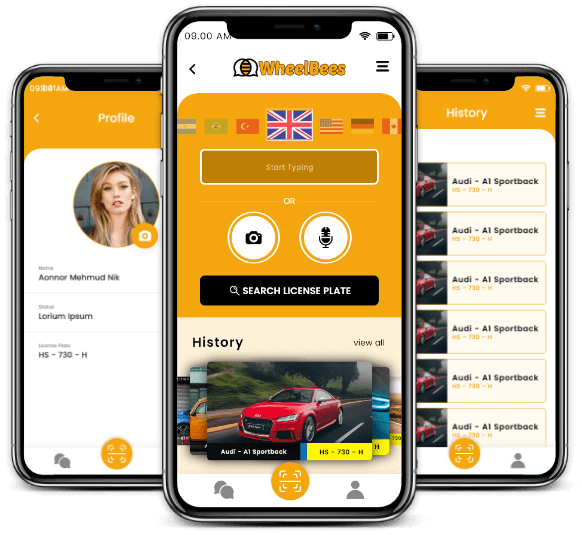 Slide
QR & Barcode Scanner

The users should be able to scan the QR codes and Barcodes of different products. The scanner is helpful to view the data hidden in the QR codes and Barcodes.
- The users should be able to scan the QR codes.
- The users should be able to scan the Bar codes.
- The users can generate custom QR codes.
Techtlk
Techtlk

An AI based app that helps the users to convert voice into text on the basis of an AI model integrated at the backend. The model converts the voice sent to it into text and returns the string back to the app. The app will figure out which app to open and it opens up the app like Facebook, Whatsapp e.t.c
- The users should be able to open up any app with the help of voice command.
- The users should be able to play music and control the volume of the player.
- The users should be able to connect with any Bluetooth device.
Tools and Technologies We Used
Sketch
InVision Studio
Figma
Adobe Xd
Proto.io
Mobile App Solutions for Industry Specific Needs
We perform as a companion for business owners to attain business perspectives ahead of expectation
Approaches Followed By Our App Developers
Business analysis
Documenting specifications
Preparing wireframess
Getting client approval
Crafting app prototype
Making changes
Getting client approval
Implementing feedback
Development strategy
Testing strategy
Product development
Product release
Deployment
Maintenance & Support
OUR SERVICES
Why Choose Us
We have a proven record of delivering hundreds of Android, iOS, and other applications in the committed time without compromising with the quality.
Next-Generation Mobile Apps
We understand your diverse business needs and goals to deliver future-ready apps with advanced features, novel capabilities, excellent usability, and rock-solid security.
By signing NDA, our company ensures the utmost safety of all your private data. We deliver best-rated products to our fortune clients by maintaining confidentiality.
CoderGlobe has been named one of the Top mobile app companies. Both Clutch & GoodFirms have recognized it as a top mobile app development company.
At CodersGlobe we serve our customers with the most reasonable packages they can find in the market. This is all because we value your concerns, and we always try to acknowledge things that we can to make you satisfied.
Our team of leading mobile application developers have been pushing the frontiers of mobile app development and its possibilities to deliver apps that matter.
Mobile App Solutions for Verticals
From startups to enterprises, we've gained vast experience in delivering innovative digital solutions for a wide range of clients across multiple industries.