About
Avenue Mall is a pied-a-terre for all visitors, featuring a blend of world-class retail, restaurants, amusement & leisure, festivals, and events. It is the top pleasure resort in the UAE, offering tourists everything from shopping to the lifestyle experience they deserve, all in one spot.
Codersglobe enabled the Avenue mall to successfully transit from brick-and-mortar business to a digitally revolutionized platform. The m-commerce app for mighty Avenue Mall has revolutionized the online shopping experience for its visitors. We have not only created a stunning user experience design for Avenue Mall's customers but also assisted the brand in replicating a customer interaction platform on smartphones. Users will be notified about future mall events, quickly explore shopping brands, and have access to unique discounts and promotions.
Expertise delivered
Category
OUR CLIENTS
Trusted By The Best
The challenge
The main goal was to develop an app that accurately reflects the real-life shopping experience at Avenue Mall. The aforementioned challenges were surmounted in the process of empowering the brand to connect with digitally savvy audiences and boosting its reach.
The foremost requirement of the app was to design an eye-catchy UX/UI design to keep users hooked to the digital shopping experience while using this app. In order to do so, our front requirement went through multiple modifications until desired results were achieved.
Another challenge posed was to know about the interests of a targeted audience of the app to meet their expectations to explore the best brand outlets, food restaurants, and events happening within the mall.
To improve the client return ratio, upcoming event alerts were required to be integrated into the app.
Google Maps integration was also a significant challenge. Since the development team was from Pakistan, it displayed the incorrect location for users in Dubai. To achieve the desired results, we have deployed static implementation to accomplish the task.
With our dynamic user-friendly mobile app solution, our customer is keeping up with the trends of mobile commerce for his fully functional mall located in UAE. We developed an innovative solution that meets our clients' needs and addresses the aforementioned concerns.
We used the core strategies of the native Android and iOS to get things done quickly.
We have done static Google Maps implementation by determining the coordinates of Avenue Mall and pinning the position on the map so that users can quickly identify the mall's location.
We've compiled a list of various stores, festivals, and eateries so that the customer won't have any problem finding what they're looking for.
The application ought to be available for download and operation by all UAE consumers.
We have developed a search module that allows visitors to browse the mall at their leisure.
Our client may employ users' data, account preferences, and device attributes to develop tailored marketing campaigns and product recommendations with personalized experiences.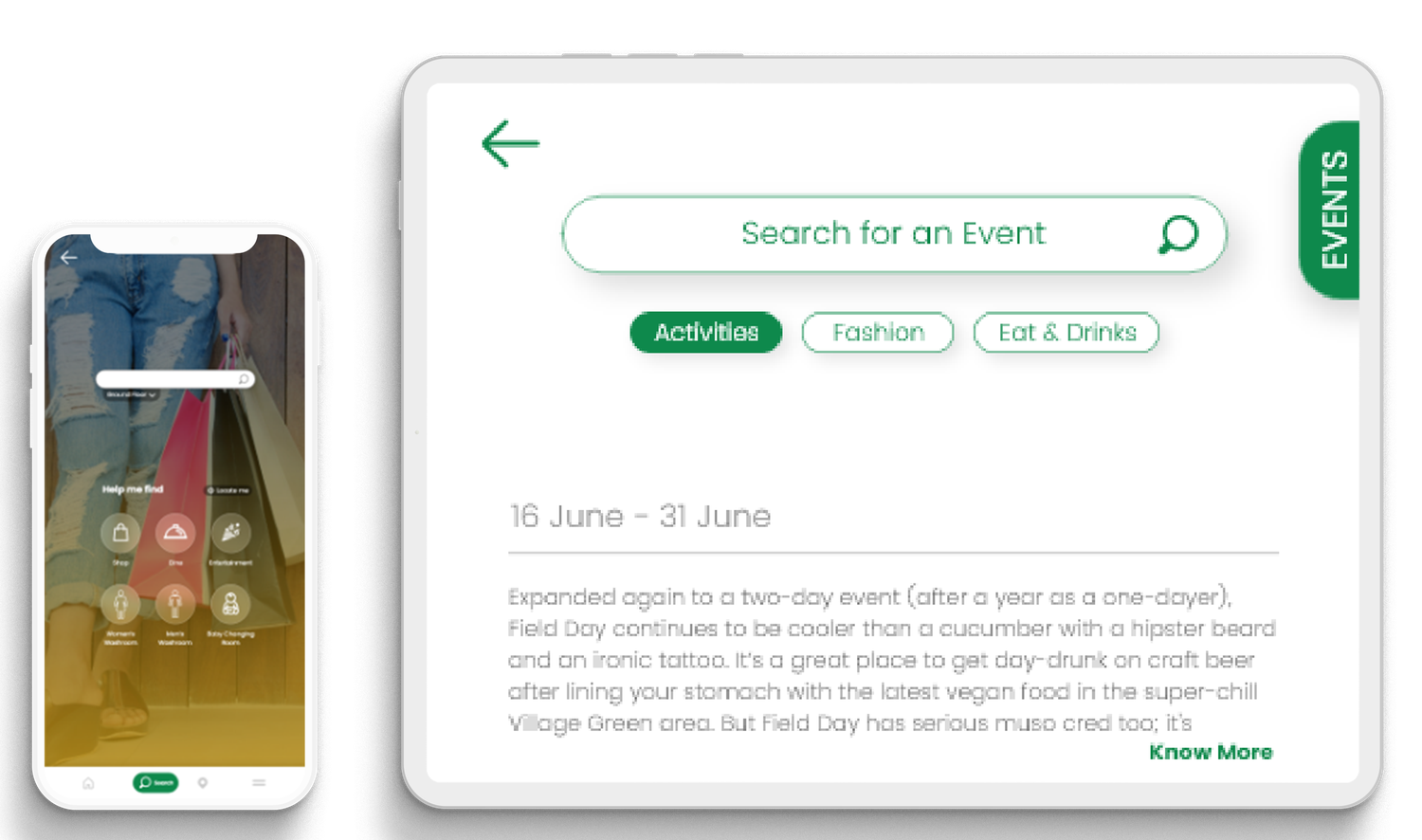 Product descriptions count when it comes to online shopping. This app reduces the risk of product returns, hasty purchase choices, and user discontent by providing customers with extensive product information. Customers who are interested in purchasing a product may look up details such as type, size, cost, color, manufacturer, and warranties. They have all of the information they require in one spot.
Push notification is an enticing feature of our app. Push notifications may notify users of new product updates, saved items that are back in stock, hot flash discounts, and tailored product offerings, among many other things.
The Avenue Mall App is likely to have a substantial number of products, and it is hard to discover the same thing after you have exited the app. However, using the wishlist option, any of your favorite articles may be saved for later reference. It's similar to bookmarking for things that consumers want to return to and review later. This app also alerts users when a product on their wishlist is available at a discount.
Augmented Reality gives your eCommerce app the ability to show off your product to the customer in a real-world setting. It is beneficial to have a virtual try-before-you-buy session. Customers have found augmented reality to be quite useful when online shopping since it helps them resolve their questions and hangups before buying a product. It also helps to reduce churn by allowing consumers to make deliberate decisions through trial interactions.
A product page is incomplete unless it has a decent product gallery with at least several images of the item. Some buyers are hesitant to purchase online because they cannot evaluate the goods like they would at a conventional store. We handled this issue well by including many item images that show the object from various perspectives and in various settings. The app provides 3D product renderings, allowing users to flip the thing around to see it clearer.
Our team of leading mobile application developers have been pushing the frontiers of mobile app development and its possibilities to deliver apps that matter.
TECHNOLOGIES
Technology stack that we used in this project